Scheduled Events
121 New Rd. Kendall Park NJ 08824
April 1st, 2020 7:00 PM Monthly Drill - (May be online)
April 15th, 2020 8:00 PM Monthly Member Meeting -This Meeting will be Online-

Become a valuable part of your community. Volunteers are always needed. For more information on joining the Kendall Park First Aid and Rescue Squad CLICK HERE.

Visit our Local Supporters Page for Local Coupons and more..CLICK HERE.
When To Work
Click here to access "When To Work"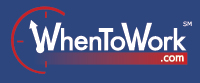 For Mobile access, please visit http://m.whentowork.com on your mobile device.